KM Photopolymer Plates
KM steel backed photopolymer plates offer exceptional detail and clarity while capturing light and midtone grays. Km plates are used in photo intaglio and relief flexographic printing. Each plate comes layered with a U.V. ultraviolet protective sheet that peels off prior to use.
Exposing Tyobo KM Photopolymer Plates
KM Photopolymer plates consist of a photo sensitive polymer emulsion on a steel backed photopolymer plate for photo intaglio printmaking. It can be cut to size using the
Kutrimmer Plate Cutter
. After peeling back the UV protective sheet the KM photopolymer plates are commonly exposed using a
multi spectrum metal halide exposure unit
. Eevaluated and calibrated test strips of photopolymer plate using a
stouffer 21 step scale
to acheive a solid 14/15 with the actual positive transparency.
Developing Tyobo KM Photopolymer Plates
Km Photopolymer plates are developed in luke warm tap water. This procedure provides a safe alternative to traditional photo intaglio printing.
Tyobo KM Photopolymer Plate Emulsion Thickness
The emulsion on KM 43 photopolymer plate is .017" thick
The emulsion on KM 83 photopolymer plate is .033" thick
Tyobo Photopolymer Printmaking Plate Pricing
35020508 5 3/4" x 8 1/4" 146mm x 210mm
35020811 8 1/2" x 11 1/2" 216mm x 292mm
35021116 11 1/2" x 16 1/2" 292mm x 419mm
35021623 16 1/2" x 23 3/8" 419mm x 594mm
35022333 23 3/8" x 33" 594mm x 838mm
Reference Material
Item #53017
Printmaking With Photopolymer Plates:
A New, Safe, Versatile Printmaking Technique For Artists And Students
By: Dianne Longley
A complete guide to the uses of photopolymer plates with step by step instructions.
The book includes an overview of various print media, a history of photopolymer plates and a schematic for building an exposure unit.
Paperback 112 pages.
Testing
Item # 23301
Stouffer 21 step Scale
Used to evaluate variables in exposure of photo sensitive plates.
Cutting
Item # 22021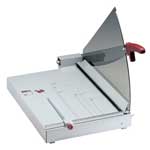 Table Top Kutrimmer:
Photopolymer plate; solar and KM
Litho Plate; ball grained and photo litho
Monotype Plates; Polycarbonate and PETG
Paper; up to 30 sheets of 20#